Advertisements

Indian Community Relief Fund Blood Donation Drive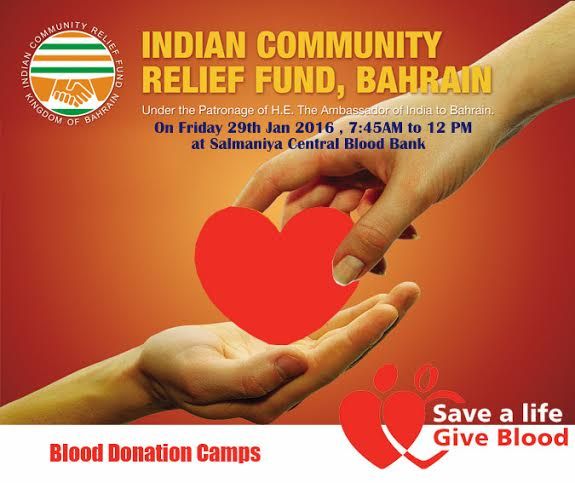 Indian Community Relief Fund (""ICRF'') under the auspices of the Indian Embassy, Bahrain will be organizing a Blood Donation Drive on Friday, 29th January 2016 , from 7:45 AM to 12 Noon. All are requested to be a part of this .

Blood is needed for emergencies and for people who have cancer, blood disorders, sickle cell, anemia and other illnesses. Some people need regular blood transfusions to live.

The blood you donate gives someone another chance at life. One day that someone may be a close relative, a friend, a loved one?or even you.

The purpose of ICRF is to be of assistance to the needy Indian expatriates in Bahrain. It has been successful in this mission to a great extent. Financial assistance was granted to many, including providing tickets to those who are stranded without any support, providing assistance to the legal heirs of the Indians who died in Bahrain by way of pursuing legal claims through the lawyers and providing financial assistance to the legal heirs wherever feasible, providing legal assistance to those who wanted to pursue their claims irrespective of whether they continue to be in Bahrain or leave the country for good, providing support and guidance through qualified professionals on issues related to alcoholism, drug abuse, stress management, financial worries, suicidal tendencies, family relationship, the list goes on.
Monthly free medical camp is one of the regular activities of the ICRF. Several workers from various labour camps in Bahrain have utilized the facility of the medical check up provided at the accommodation of these workers.

Transportation is arranged from various parts of Bahrain. For registration and transportation please call in advance : Mr. Ajay Krishnan 39627219 or Mr. Zubbair Kannur 39682974 or Mr.Sudheer Thirunilath 39461746.




- dated 16 Jan 2016
Comments:

Keywords: Gulf - Otta Nottathil - blood_donation_drive Gulf - Otta Nottathil - blood_donation_drive,pravasi news,malayalam news portal,malayalam news from Europe,Gulf malayalam news,American malayalam news,Canadian malayalam news,Singapore malayalam news,Australia malayalam news,Newzealand malayalam news,Malayalees News Portal,Malayali News,News for Mallus,Finance, Education, Sports, Classifieds, Current Affairs, Special & Entertainment News. Classifieds include Real Estate, Condolence, Matrimonial, Job Vacancies, Buy & Sell of products and services, Greetings. Pravasi Lokam - pravasionline.com- a pravasi malayalam news portal. Malayalam Pravasi news from Europe,Gulf malayalam news,American malayalam news,Canadian malayalam news,Singapore malayalam news, Australia malayalam news,Newzealand malayalam news,Inda and other countries. Covers topics - News headlines, Finance, Education, Sports, Classifieds, Current Affairs, Special & Entertainment News. Classifieds include Real Estate, Condolence, Matrimonial, Job Vacancies, Buy & Sell of products and services, Greetings.

Other News Titles:
Advertisements